PANYC is the creation of a group of six NYC proto-punks:
We are Camilla Saly, Snooky and Tish of Manic Panic, Lee Marshall, Karla Merrifield and Alison Aguiar, 
working to preserve New York City punk and underground music history and culture.
Dubbed "the Darlings of the Demented" by Dennis Dunaway from the original Alice Cooper Group, Tish & Snooky Bellomo were an integral part of the NYC punk movement. Fixtures on the scene since the era when CBGB was still known as Hilly's, they were part of the transition from glam to punk. They performed in the Palm Casino Revue and were members of the original Blondie Band and the Sic F*cks. They've performed back up vocals for countless artists, both live and on recordings, including Robert Gordon, The Dictators, Manitoba's Wild Kingdom, The Stilettos, Ronnie Spector, LaLa Brooks, The Cameros, Mark Johnson, Joe Hurley, The Flowerpot Men, Ed Rogers, Patti Smith, Lenny Kaye, Wayne Kramer, Squeeze, David Johansen, Rocco Primavera, and others. 
They are currently members of supergroup "Blue Coupe" consisting of Rock & Roll Hall of Famer Dennis Dunaway, (original bass player and founder of The Alice Cooper Group,) and Albert and Joe Bouchard, original members of Blue Oyster Cult, and their vocals can be heard on the soon-to-be-released Dictators song, "God Damn New York"!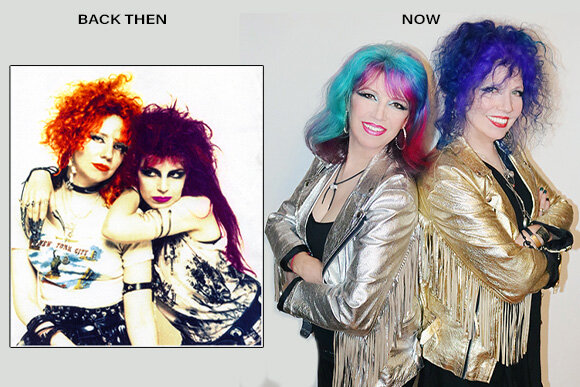 As Founders of Manic Panic, the first punk store in America, they helped introduce NYC punk culture and style to the world. They started the creative hair color trend in the USA, which they continue to lead, worldwide, to this day. Still singing and still rocking the style they love, they don't just sell it, they live it!
Lee is your quintessential music fan. As a 15 year old she stumbled onto punk in the $1 bin at a local Brooklyn record store and never looked back. A fixture at rehearsal studios and local clubs, she was there cheering the bands before they became famous. She worked at Manic Panic, The Brooklyn Zoo, the Left Banke, and the Mudd Club. 40 years later, she continues to promote the archiving of treasured historical punk items, to inspire and excite others.
Alison became interested in the burgeoning NYC music scene when her older sister Mariah started sneaking into Max's and CBGBs at 14, taking photos of the musicians and the people who went there. She followed her sister to Manhattan, and while going to college, worked at Manic Panic & CBGBs, both community hubs for the East Village. Despite moving on to "straight" jobs, she has maintained her connection to the friends she made, and wants to preserve the history of this important time. Alison lives in NYC with her husband and daughters.
In 1977 Karla Merrifield had a long shag haircut, dyed henna red. People called her a punk, but she didn't wear leather or safety pins. "All of us were there; we all had different experiences but the same mind-set. Do what you want, when you want, how you want, with style and attitude!" she says. As a teenager growing up in Greenwich Village, Karla frequented local clubs like CBGB and Max's Kansas City. There she photographed many local bands including the New York Dolls, Dead Boys, and Heartbreakers. Her work has been published in Rock Scene, Circus Magazine, New York Rocker, Rolling Stone and Modern Drummer. Karla continues to work in the art and music community as an archivist. She has lived in New York City since 1969.
The first time Camilla Saly went to Max's she was 14. At 16 she lived at the Fifth Avenue Hotel, down the hall from Roxy and Anya. She became a rabid fan of the New York Dolls and Wayne County at Club 82, was a regular at the second incarnation of Max's, made Keith Richards laugh at Ashley's, and hung out a ton at S.I.R., before ever playing pinball and loving the Demons and Tuff Darts at CB's. A huge Dictators fan, she spent time on tour with them and the Dead Boys at the invitation of her roadie boyfriend. She worked for Danny Fields and Linda Stein when they managed the Ramones. At 21 she quit the music biz, got a few degrees and became a teacher for "at-risk" teenagers in NYC's alternative schools. Today she's retired and lives in Upper Manhattan with her husband Mark and their bipolar cat Growlith. She spends much of her time working to preserve New York City history and culture. Find out more about her and PANYC by reading this interview, and here's one of her other obsessions: performancethefilm.com.